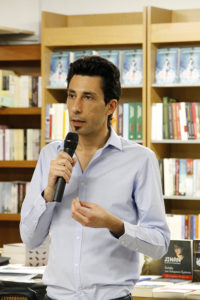 Personal note from Lambros:
"My passion and life`s purpose is helping people to overcome life's obstacles, improve their skills and have more control over their lives. Improving ourselves will allow us to improve our life and those around us also. We all deserve a better quality of life and with a bit of an effort we can have it!"
Our founder Lambros Ioannou is an experienced professional with the right knowledge and qualifications to support you in your self development. After completing his studies in Business Management (Diploma) and Human Resource Management and Marketing (Bachelor of Science), he went on to work in executive and managerial positions in International and Cypriot companies.
Ever since his graduation he devoted his free time in Personal Development acquiring additional qualifications. He is a certified Life Coach by the European Mentoring and Coaching Council (EMCC) and also a certified Neuro Linguistic Programming practitioner (NFNLP). Lambros has been trained by top coaches and best selling authors in Cyprus and internationally including the likes of Tony Robbins, Brendon Burcard, John Lee, Marissa Peers and Harv Eker.
Additionally he has been studying online MOOCS (Massive Online Open Courses) from well known Universities and attending a variety of educational seminars. Among the courses studied were General and Social Psychology, Philosophy in Business, Entrepreneurship and Introduction to Neuroscience. (see below a complete list).
Currently he is also a teacher in Peace by Praxis which is a unique system for Mind, Body and Spirit conditioning. This system combines Internal Wing Chun, Qi Qong, Pilates and Meditation for more control over body and mind and provides a path for a complete transformation.
Besides outdoor sports Lambros spends his free time volunteering in various projects of Non Governmental Organisations in the fields of Environment, Children Welfare and Philosophy.
Combining his knowledge, experience and Neuro Linguistic Programming he will provide you with a vast range of tools, methods and techniques to achieve your goals.
List of certificates, qualifications, attendances:
Coach Certificate (European Mentoring & Coaching Council)
NLP Practitioner Certificate (NFNLP)
BA Human Resource Management and Marketing (Middlesex,London)
Diploma Business Management (Intercollege, Cyprus)
Certificate of attendance in General Psychology (Cyprus Ministry of Education & Culture)
EU Erasmus+ Youthpass Certificate ''Training for non-violent activism'', Civil Rights and Social Action (Friends of Earth Cyprus)
MOOCS www.coursera.org:
On Strategy: What Managers can Learn from Philosophy (Ecole Centrale Paris)
Inspiring Leadership through Emotional Intelligence (Case Western Reserve University)
Introduction to Medical Neuroscience (Duke University)
Social Psychology (Wesleyan University)
Entrepreneurship: Developing Innovative Ideas for Start Ups (University of Maryland)
Introduction to Philosophy (University of Edinburgh)
Global Business of Sports (University of Pennsylvania)